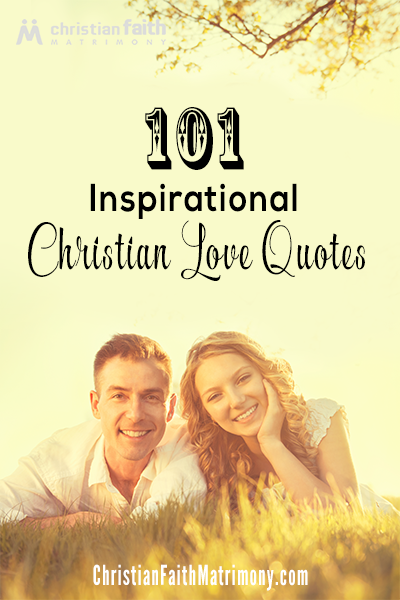 They say love is what makes the world go round.
While the saying may not be entirely true, those who have experienced true love would say that it has certainly made a tremendous positive difference in their lives.
Christians who understand the depth of God's unconditional love also feel the need to share that same love with others around them.
Love takes on many forms and shapes in each of our earthly relationships, but they will be successful when based on the God's agape love.
Here are 101 inspirational Christian love quotes from all around the world!
1. The greatest happiness of life is the conviction that we are loved; loved for ourselves, or rather, loved in spite of ourselves. – Victor Hugo
2. You know when you're in love when you can't fall asleep because reality is finally better than your dreams. – Dr. Seuss
3. Once you truly believe you're worthy of love, you will never settle for anyone's second best treatment. – Charles J. Orlando
4. With love one can live even without happiness. – Fyodor Dostoyevsky
5. The best and most beautiful things in this world cannot be seen or even heard, but must be felt with the heart. – Helen Keller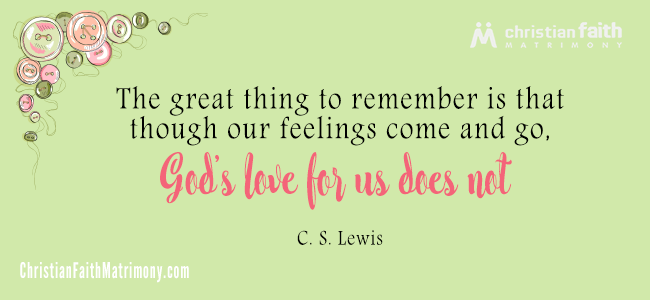 6. To love is nothing. To be loved is something. But to love and be loved, that's everything. – Bill Russell
7. In order to be happy oneself it is necessary to make at least one other person happy. – Theodor Reik
8. Love is that condition in which the happiness of another person is essential to your own. – Robert A. Heinlein
9. Love is like the wind, you can't see it but you can feel it. – Nicholas Sparks
10. To love another person is to see the face of God. – Victor Hugo
11. God is love. He didn't need us. But he wanted us. And that is the most amazing thing. – Rick Warren
12. God gives miracles to those who believe, courage to those with faith, hope to those who dream, love to those who accept, and forgiveness to those who ask. – Unknown
13. Lord, grant that I might not so much seek to be loved as to love. – Francis of Assisi
14. God will bless you with someone incredible for your life. Have patience and never settle for less because God wants the best for you. – Ritu Ghatourey
15. Whatever a person may be like, we must still love them because we love God. – John Calvin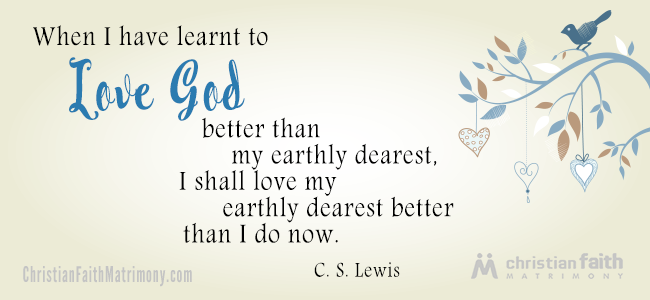 16. We become truly personal by loving God and by loving other humans. In its deepest sense, love is the life, the energy, of the Creator in us. – Kallistos Ware
17. To love someone means to see them as God intended them. – Fyodor Dostoyevsky
18. As the Father has loved me, so have I loved you. – Jesus Christ
19. Forgive and give as if it were your last opportunity. Love like there's no tomorrow, and if tomorrow comes, love again. – Max Lucado
20. There is no surprise more magical than the surprise of being loved: It is God's finger on man's shoulder. – Charles Morgan
21. The great thing to remember is that though our feelings come and go, God's love for us does not. – C. S. Lewis
22. God loves each of us as if there were only one of us. – Saint Augustine
23. When you forgive, you love. And when you love, God's light shines upon you. – Jon Krakauer
24. Love wholeheartedly, be surprised, give thanks and praise- then you will discover the fullness of your life. – David Steindl-Rast
25. Love God and He will enable you to love others even when they disappoint you. – Francine Rivers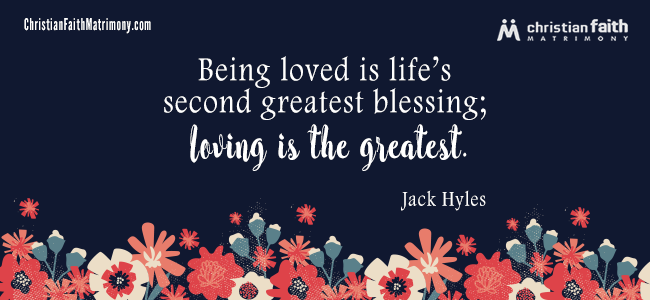 26. The first duty of love is to listen. – Paul Tillich
27. The greatest honor we can give Almighty God is to live gladly because of the knowledge of his love. – Julian of Norwich
28. Love is an act of endless forgiveness. – Peter Ustinov
29. When I have learnt to love God better than my earthly dearest, I shall love my earthly dearest better than I do now. – C. S. Lewis
30. Being loved is life's second greatest blessing; loving is the greatest. – Jack Hyles
31. Nothing can bring a real sense of security into the home except true love. – Billy Graham
32. Where love is, God is. – Leo Tolstoy
33. The best use of life is love. The best expression of love is time. The best time to love is now. – Rick Warren
34. God teaches us to love by putting some unlovely people around us. It takes no character to love people who are lovely and loving to you. – Rick Warren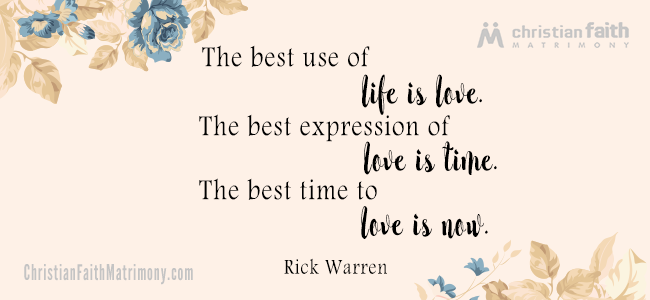 35. Love is the doorway through which the human soul passes from selfishness to service. – Jack Hyles
36. The chains of love are stronger than the chains of fear. – William Gurnall
37. Everything God does is love — even when we do not understand Him. – Basilea Schlink
38. Since love grows within you, so beauty grows. For love is the beauty of the soul. – Saint Augustine
39. Do not waste time bothering whether you "love" your neighbor; act as if you did. – C. S. Lewis
40. Love is a gift of God. – Jack Hyles
41. Faith makes all things possible… love makes all things easy. – Dwight L. Moody
42. A happy marriage is the union of two good forgivers. – Ruth Bell Graham
43. A successful marriage requires falling in love many times, always with the same person. – Mignon McLaughlin
44. Love is often the fruit of marriage. – Moliere
45. To witness two lovers is a spectacle for the gods. – Johann Wolfgang von Goethe
46. When you love someone all your saved up wishes start coming out. – Elizabeth Bowen
47. Love means to commit yourself without guarantee. – Anne Campbell
48. Love is moral even without legal marriage, but marriage is immoral without love. – Ellen Key
49. Love is needing someone. Love is putting up with someone's bad qualities because they somehow complete you. – Sarah Dessen
50. Love is an act of endless forgiveness, a tender look which becomes a habit. – Peter Ustinov
51. The highest function of love is that it makes the loved one a unique and irreplaceable being. – Tom Robbins
52. Love is when the other person's happiness is more important than your own. – H. Jackson Brown, Jr.
53. Here's the paradox. We can fully embrace God's love only when we recognize how completely unworthy of it we are. – Ann Tatlock
54. A woman's heart should be so hidden in God that a man has to seek Him just to find her. – Max Lucado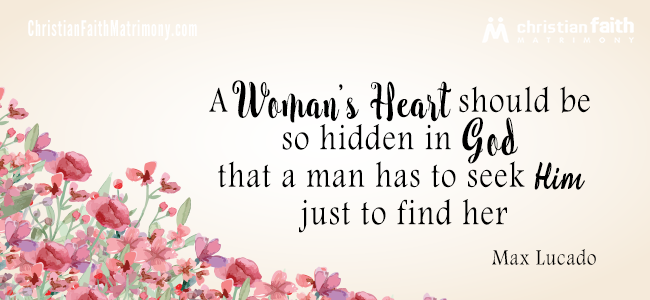 55. The best time to love with your whole heart is always now, in this moment, because no breath beyond the current is promised. – Fawn Weaver
56. To find someone who will love you for no reason, and to shower that person with reasons, that is the ultimate happiness. – Robert Brault
57. Where there is love, there is life. –  Mahatma Gandhi
58. Marriage is a mosaic you build with your spouse. Millions of tiny moments that create your love story. – Jennifer Smith
59. Love is the greatest gift when given. It is the highest honor when received. – Fawn Weaver
60. Love is a partnership of two unique people who bring out the very best in each other, and who know that even though they are wonderful as individuals, they are even better together. – Barbara Cage
61. In the arithmetic of love, one plus one equals everything and two minus one equals nothing. – Mignon McLaughlin
62. Love is always bestowed as a gift – freely, willingly, and without expectation. We don't love to be loved, we love to love. – Leo Buscagalia
63. Love is the master key that opens the gates of happiness. – Oliver Wendell Holmes
64. Love is an ideal thing, marriage a real thing. – Johann Wolfgang von Goethe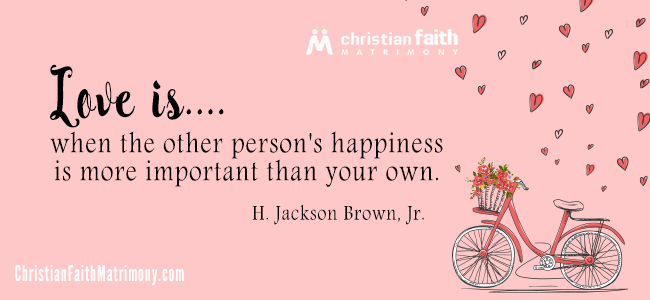 65. We come to love not by finding a perfect person, but by learning to see an imperfect person perfectly. – Sam Keen
66. Love doesn't make the world go round. Love is what makes the ride worthwhile. – Franklin P. Jones
67. The greatest marriages are built on teamwork. A mutual respect, a healthy dose of admiration, and a never-ending portion of love and grace. – Fawn Weaver
68. Marriage is a commitment- a decision to do, all through life, that which will express your love for one's spouse. – Herman H. Kieval
69. Where there is great love, there are always miracles. – Willa Cather
70. Define yourself radically as one beloved by God. This is the true self. Every other identity is illusion. – Brennan Manning
71. Love the Lord with all your heart and with all your soul and with all your mind… and love your neighbor as yourself. – Jesus Christ
72. People should fall in love with their eyes closed. – Andy Warhol
73. Let us always meet each other with smile, for smile is the beginning of love. – Mother Teresa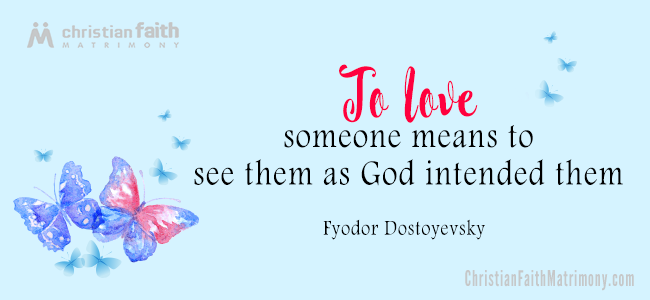 74. When the power of love overcomes the love of power, the world will know peace. – Jimi Hendrix
75. Love is always open arms. If you close your arms about love you will find that you are left holding only yourself. – Leo Buscaglia
76. Love isn't something you find. Love is something that finds you. – Loretta Young
77. Immature love says: 'I love you because I need you.' Mature love says 'I need you because I love you.' – Erich Fromm
78. I have decided to stick with love. Hate is too great a burden to bear. – Martin Luther King, Jr.
79. Love is an irresistible desire to be irresistibly desired. – Robert Frost
80. The best thing to hold onto in life is each other. – Audrey Hepburn
81. Keep love in your heart. A life without it is like a sunless garden when the flowers are dead. – Oscar Wilde
82. A flower cannot blossom without sunshine, and man cannot live without love. – Max Muller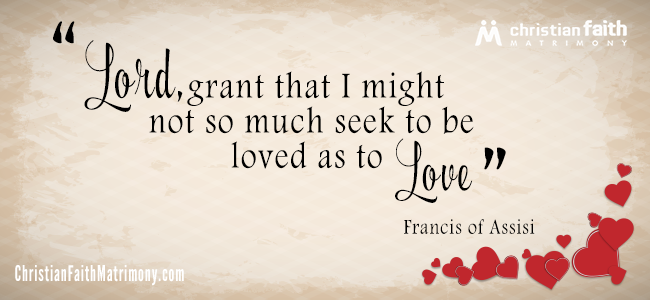 83. Spread love everywhere you go. Let no one ever come to you without leaving happier. – Mother Teresa
84. A new command I give you: Love one another. As I have loved you, so you must love one another. – Jesus Christ
85. To love and be loved is to feel the sun from both sides. – David Viscott
86. Being deeply loved by someone gives you strength, while loving someone deeply gives you courage. – Lao Tzu
87. I have found the paradox, that if you love until it hurts, there can be no more hurt, only more love. – Mother Teresa
88. Love is when he gives you a piece of your soul, that you never knew was missing. – Torquato Tasso
89. I was born with an enormous need for affection, and a terrible need to give it. – Audrey Hepburn
90. Life is the flower for which love is the honey. – Victor Hugo
91. Affection is responsible for nine-tenths of whatever solid and durable happiness there is in our lives. – C. S. Lewis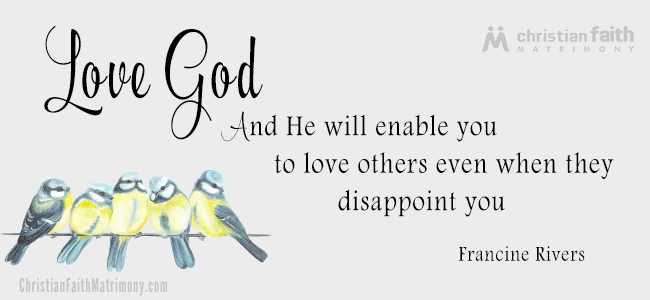 92. To love abundantly is to live abundantly, and to love forever is to live forever. – Henry Drummond
93. There can be no deep disappointment where there is not deep love. – Martin Luther King, Jr.
94. 'Tis better to have loved and lost than never to have loved at all. – Alfred Lord Tennyson
95. Love is the flower you've got to let grow. – John Lennon
96. All that we love deeply becomes a part of us. – Helen Keller
97. Love has reasons which reason cannot understand. – Blaise Pascal
98. Love does not consist in gazing at each other, but in looking outward together in the same direction. – Antoine de Saint-Exupery
99. We loved with a love that was more than love. – Edgar Allan Poe
100. Do all things with love. – Og Mandino
101. Love cures people – both the ones who give it and the ones who receive it. – Karl A. Menninger
We hope this beautiful collection of Christian love quotes inspires you to love others just as Christ has loved you.